Read at own risk


This article contains unmarked spoilers. Players new to the game would want to avoid or be cautious toward this article.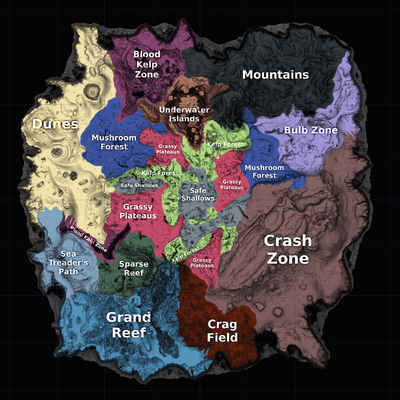 This page contains coordinates used for locating points of interest on The Crater, as well as maps used to keep track of other things such as biomes, resources, fauna, etc.
To teleport to coordinates, use the warp command:
warp [x] [y] [z]
See Console Commands for how to enable the debug menu. You can view coordinates by pressing F1 (PC users only).
Note: Parentheses with matching numbers indicate multiple entrance points for the same structure/location; entrances with the same designations are connected.
Alterra Technology
Biomes
Caves
Degasi Seabases
Lava Geysers and Thermal Vents
Leviathan Spawns
Precursor Structures
Skeletons and Minor Structures
Gallery
An interactive version of the map available at subnauticamap.io.
Pre-Ghost Update cave maps, in Subnautica, including the Deep Grand Reef, Lost River, Lava Zone, all the way down to the Primary Containment Facility, made by Jonas Bötel, a developer, can be found here: [1].
3D Map files posted on the official Subnautica forum by user hrrhrr can be found here: Unknownworlds Forums