GTA: The Criminal Enterprises - The Loop
Play Sound

There is a large anomalous mass of rock that has broken away and risen above the surrounding terrain
― PDA


Lilypad Islands is a biome that appears in Subnautica: Below Zero.
It borders the Tree Spires, Purple Vents, World Edge, and the East Arctic.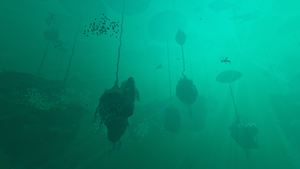 The Lilypad Islands' rocky seafloor is dominated by plant life of all sorts, from the rolling plains of seagrass to the trenches formed by the Lilypads tearing the ground off the seafloor, and rising to the surface. A lone Noot Fish may be found prowling in the grass, stalking a Bladderfish. Meanwhile, Lily Paddlers can be found drifting, grazing on the diverse flora. Down on the seafloor, batches of colorful flora can be seen growing near Fallen Lilypads.
The islands giving this land its name can be found suspended above the seafloor by the giant Lilypads that have shaped this ecosystem. Many islands are connected by the roots, creating unique patterns. Squidsharks and Brute Sharks can be seen hunting here, along with majestic Glow Whales that can be seen feeding on small schools of fish in the biome. Glow Whale Eggs can be found on the suspended islands.
In the center of the area, a huge chunk of earth is suspended by many Lilypads growing on its surface. The crevice created around the edges of this forms the opening to a cavern underneath.
Spoiler alert: The following section contains story related material.
---
Omega Lab is located within the floating rock found in the center of the Lilypad Islands. The bow section of the human spacecraft Mercury II is also found in this biome, bordering the Tree Spires as well as the World Edge.
Gallery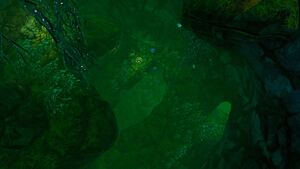 The Lilypad Islands Caves are small cave systems located inside of the larger boulders suspended by the many Lilypads in the biome. These can drastically vary in size, some being very cramped while others are large and spacious.
Gel Sacks can be found in this area of the biome.
Spoiler alert: The following section contains story related material.
---
Omega Lab can be found in one of the caves found in the largest island in the Lilypad Islands.
Gallery
Development