Fire Emblem Warriors: Three Hopes - The Loop
Play Sound

The mineral detector can sniff out raw materials, potentially saving you hundreds of hours of searching.
― PDA.


The Mineral Detector is a craftable tool that helps the player to find Raw Materials, Fragments, and certain geographic locations.
Usage
When held, the Mineral Detector displays the current target material and a sine graph showing the player's proximity to the target. The Detector makes a repeating beep that beomes more frequent as the player gets closer to the selected material.
Target materials can be selected only from among those material types that the player is in close enough proximity to. The player cycles through these on the Detector's display with RMB for the next material or F for the previous one.
The available targets are:
Recipe
The blueprint for this tool is acquired by scanning the Mineral Detector on the Delta Island at -234 31 -728, inside a cargo box at the Emergency Supply Cache at -584 -33 22, or at the floating tech site in the Shallow Twisty Bridges. It is crafted in the Fabricator.
Databank Entry
Mineral Detector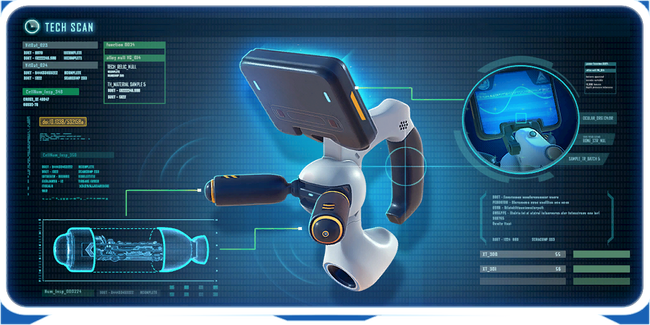 Using a complex blend of electromagnetic field transmission and beta decay detection, the mineral detector is capable of identifying nearby resources and approximating distance.

Two anntenae emit an advanced pattern of waves to detect specific materials for mining. An ultra-bright display visually communicates distance to the target resource. Proximity alarms add an extra layer of information for finite spatial positioning.
Source: Unlock the Mineral Detector
Gallery