The Noot Fish is a small, edible fauna species. The general body shape and fin position of the Noot Fish seem to show that it is a relative of the Brinewing.
Appearance
The Noot Fish possess a mouth that can expand from a compact resting position into a large circular veil. The outside of the mouth veil has a colouring of red, blue, purple, and yellow bands, arranged in that order from the base to the rim of the veil. The interior of the mouth veil is largely orange in colour, broken up by a yellow band at the rim and a blue band in the center, and contains seven rows of spikes stretching from the rim to the mouth in the centre of the veil.
Two pairs of comparatively large fins, mostly purple in colour with blue stripes on the hind areas, are found on the lower section of the Noot Fish's body. One smaller dorsal fin is located behind the head, also purple in colour with a blue stripe on the underside and hind rim. The hind end of the body ends in a vertical fin, blue in color with purple spots along the back edge.
The body of the Noot Fish is largely purple in colour, with one pair of two blue bands on the upper section of the body and one blue band on the underside running from the tail to the mouth of the animal. On the front of the body is a large yellow eye resembling that of an octopus, surrounded by an inner blue ring and an outer orange ring. Behind the eyes are what appear to be orange external gills stretching about the vertical length of the eye up the body.
Behavior
The Noot Fish is a small predator that lives off fish small enough for it to swallow whole. It attacks prey by expanding its mouth veil and engulfing the prey before eating it.
When a threat is encountered the Noot Fish will flare out its mouth veil into a disk shape in an attempt to startle the aggressor.
Databank Entry
Noot Fish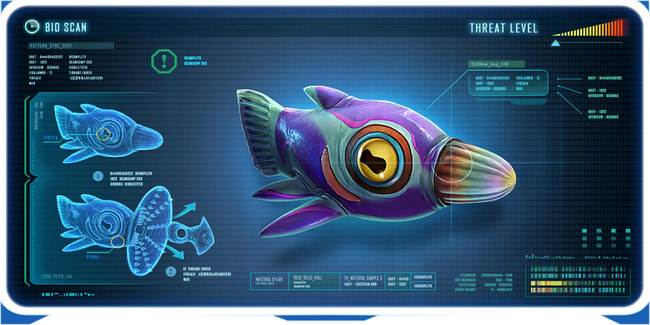 A small predator which eliminates the need to overcome its prey by simply swallowing it whole.

- With its colourful markings the noot can easily pass for a small herbivore, allowing it to sneak up on its prey
- What looks like a beak is in fact a single, stretchy, extendable lip, lined with barb-like teeth
- Once within reach it envelops its prey, drawing it inside its stomach before retreating for several weeks to digest its meal

Assessment: Harmless
Source: Scan Noot Fish
Design
The Noot Fish's extendable veil might have been inspired by the real-life sarcastic fringehead.
Sounds
Gallery
Trivia
The Noot fish's name may be a reference to Pingu, a British-Swiss stop-motion animation where the main character, a penguin named Pingu, often changes his beak to a similar shape to the Noot fish's veil to say his catchphrase "Noot noot".