This article is about Pipes in Subnautica. To see this subject's article on the Below Zero Wiki, click here.
Pipes and the Floating Air Pumps are crafted by using the Fabricator. They allow the player to pump Oxygen from the surface.
The Base-attached Air Pump can be constructed using the Habitat Builder, which allows the player to pump Oxygen from a Seabase instead of the surface. This may be a more preferable choice for areas too deep to use the Floating Air Pump.
Note that the function of pipes and air pumps is not to supply a base with oxygen, but to create a location underwater where breatheable air is accessible to the player. Pipes cannot supply a base with oxygen.
Usage
Pipes allow the player to create a network of interconnected Pipes with readily available Oxygen underwater.
The Base-attached Air Pump pumps Oxygen through Pipes from a Seabase without the need to place Pipes at the surface.
A Pipe must be connected to an Air Pump in order to carry oxygen. A player's Standard O₂ Tank will start filling once they swim near an active Pipe.
How to Use
Place a Floating Air Pump above the water.
Connect a Pipe to the Floating Air Pump. The Pipe will be shown at the end of the first Pipe.
The Base-attached Air Pump can be placed on a Seabase to pump oxygen through Pipes without having to place Pipes at/from the water surface.
If the player swims near the end of a Pipe, they will automatically receive Oxygen.
Recipe
×5
Data Bank Entry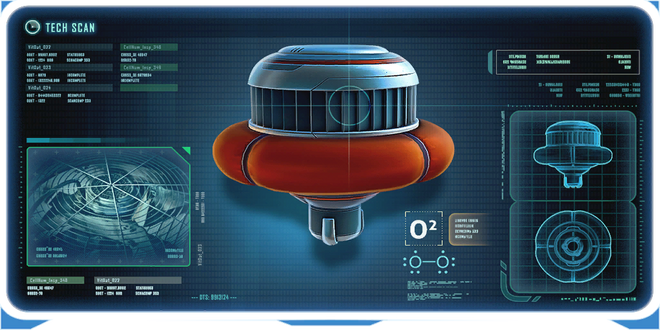 Air pumps can be used to pipe breathable air to a remote location.
The base-attached airpump can be built at a compatible habitat, and will source oxygen directly from the habitat's oxygen generator
The floating airpump must have access to breathable air, and be floating on the water's surface
Pumps must be connected to a pipe chain to function
Gallery
Trivia
The Databank Entry image for the Floating Air Pump displays an incorrect representation of diatomic oxygen, showing it with five valence electrons on each oxygen atom and a single bond between the two, when there should only be four valence electrons on each and a double bond between the two oxygen atoms.
Bugs
This section contains bugs related to Pipes. Make sure to only post reproducible bugs, and use appropriate system template (

,

,

/

) depending on which platform(s) the bug has been encountered on.
If a Floating Air Pump is placed adjacent to Lifepod 5 and Pipes are placed at an angle that they intersect with the Lifepod, the Lifepod will begin to shake violently.
If the player stands on a Floating Air Pump and then picks it up, they will be sent flying at least 100m into the air.
Community content is available under
CC-BY-SA
unless otherwise noted.