The Ribbon Plant is a flora species required to craft batteries.
Description
The Ribbon Plant possesses a glowing green core anchored to the floor by a short yellow stem. Long, yellow, ribbon-like leaves wrapping around the core. From the top of the plant, a black, wavy tendril protrudes from which it most likely gets its name.
It is commonly found within caves in the Shallow Twisty Bridges.
It can also be acquired from Sea Monkeys which offer the player resources.
The player is able to pick the Ribbon Plant up and use it to craft Batteries.
Uses in Crafting
Fabricator
| | |
| --- | --- |
| x2 | x1 |
| | |
| --- | --- |
| x2 | x1 |
Spoiler alert: The following section contains story related material.
---
Architect Component Fabricator
Data Bank Entry
Ribbon Plant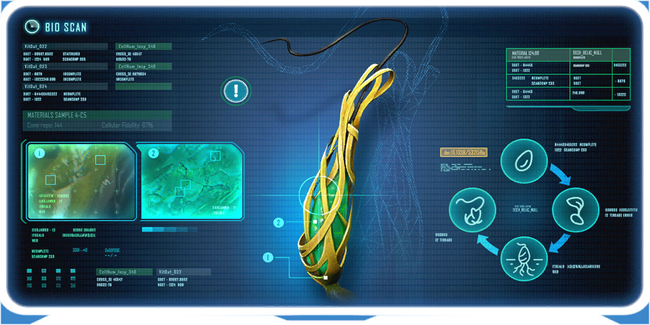 The ribbon plant contains a highly concentrated sulfuric acid and can be harvested for use in battery fabrication. The sulfuric acid evolved as an evolutionary defense mechanism to discourage fauna from eating the leaves of the ribbon plant. When harvesting the plant, the core must not be compromised in order to avoid creating an exothermic chemical reaction.
Source: Scan Ribbon Plants
Gallery