The Sea Crown is one of the rarest types of harvestable flora in Subnautica, with only a small number in existence. Overall, it is the third rarest type of flora in Subnautica, behind the Giant Cove Tree and Fern Palm. It is found exclusively in the Bulb Zone, the Dunes Sinkhole, the entrance to the Jellyshroom caves, in the Sea emperor leviathan's aquarium, and certain Grassy Plateaus Caves. One of these plants can be found in the general vicinity of Lifepod 12.
By cutting the plant with a knife, the player can harvest Sea Crown Seeds.
Appearance
The Sea Crown consists of a bioluminescent blue translucent bladder held together by its small stalks, having yellow and green patterns running along the top. The stalks holding the Sea Crown's bladder are bright green in color and are tipped with yellow.
Uses In Crafting
Spoiler alert: The following section contains story related material.
---
Hatching Enzymes
Data Bank Entry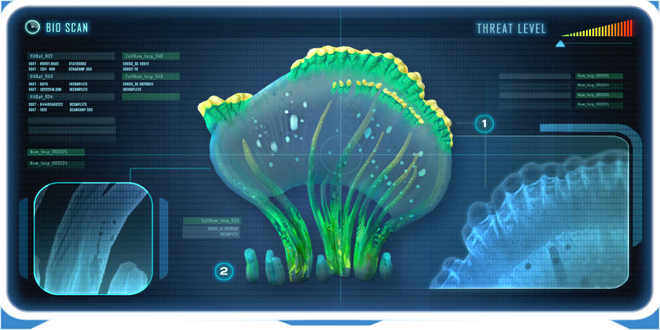 This plant consists primarily of a large bladder-like sack containing a huge variety of bacterial species, which may enable it to break down complex compounds it draws from the root system. Shares large sections of genetic code with the membrain tree. Environment scans indicate this plant is rare to the point of extinction.
Gallery
Trivia
The Sea Crown resembles a Portuguese man o' war, which is itself a composite lifeform.
Initially, only two Sea Crowns existed, located in the Bulb Zone. However, the population is much larger now and is spread across many more biomes.