The Snowfox Hoverpad is a buildable device that is used to construct the Snowfox. Once a Snowfox has been built, parking it on the Hoverpad will replenish both its health and its power. The console first used to build the Snowfox can then be used to recolor and name it.
Note that, in the current (release) version of the game, the "interior" color is always mixed with dark blue, so several colors (like white, yellow, orange, etc.) are impossible to obtain.
Recipe
The blueprint for this item is unlocked by scanning Snowfox Hoverpads at the Phi Robotics Center. It is crafted with the Habitat Builder.
| | |
| --- | --- |
| x2 | x1 |
Databank Entry
Snowfox Hoverpad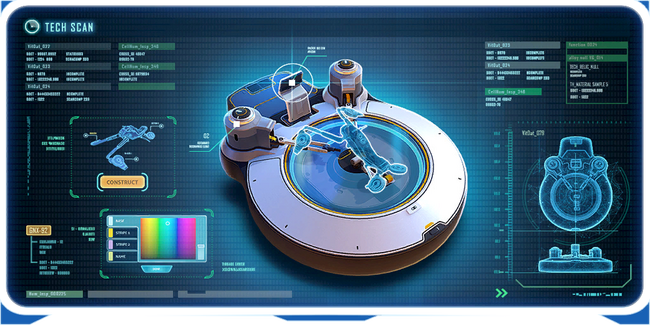 The hoverpad is a deployable pad, equipped with two articulating arms for rapid Snowfox assembly and repair. Recharge via magnetic-to-thermal energy conversion. Most commonly used for land-based operations in low to medium gravity.
Source: Unlock the Snowfox Hoverpad
Sounds
Achievement
Spoiler alert:

The following section contains story related material.

---

Like Riding a Bike


Ride a Snowfox.


How to obtain: Construct a Snowfox on the Snowfox Hoverpad and ride it.
Gallery