Raise a Floppa - The Loop
Play Sound

The Tree Spires is one of the three divisions of the thermal zone, a biome dominated by large, branching Hydrothermal Vents called Tree Spires. It is the home of the Ventgarden.
It borders the Thermal Spires, Purple Vents, Delta Island, Sparse Arctic, Lilypad Islands, Crystal Caves, and the World Edge.
Spoiler alert: The following section contains story related material.
---
An entrance to the cave containing Marguerit Maida's Base can be found here,
Description
The biome has many large tree-like Hydrothermal Vents that are covered in small vine-like Flora. It has many types of Flora and Fauna including two species of Leviathans: Two Chelicerates and two Ventgardens, with the Chelicerates and one Ventgarden in the northeastern section, and one Ventgarden in the southwestern section. A couple of Juvenile Ventgardens can be seen wandering around the biome, too.
The biome is dominated by cliffs and small ridges, with noticeable erosion in some areas. Clusters of Cliff Lanterns can be seen on growing on many of the cliffs in the biome. The southern section is also reasonably deeper than the rest of the biome, as the biome gradually slopes down into the World Edge. The western section shares a boundary with the West Arctic.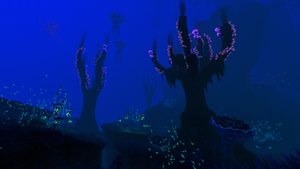 The Main Tree Spires is the main section of the biome, hosting a variety of both Fauna and Flora. The area also hosts the Leviathans mentioned previously. The ridges and cliffs of the biome support a variety of Flora native to the biome, some including the Reaper's Wineglass and the Cliff Lanterns.
The Spiral Plant, a flora needed for the crafting of Synthetic Fibers, is found inside the Ventgardens.
Gallery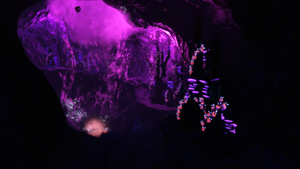 The Tree Spires Fissure accounts for the small fissures found in the cliffs and seabed surrounding the Ventgardens, and the two cave systems, each located under one of the Ventgardens. These fissures hold many rare and valuable Raw Materials, such as Uraninite Crystals or Ruby.
The cave systems themselves lack many Fauna and Flora, but contain Thermal Plant Fragments.
Gallery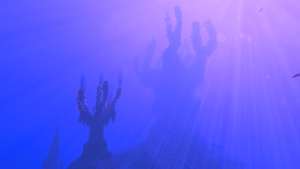 The Large Tree Spire is a smaller section of the Tree Spires found on a large rock formation located in the center of the biome. This area is easily identified by the large Tree Spire located on the top.
The area itself lacks many Raw Materials and Fauna, but it's the only area to possess Lily Paddlers, and has no specific points of interest.
The large Tree Spire can be used as a natural marker, and can also be taken advantage of to make a Seabase on thanks to its proximity to the surface and the readily available Thermal Plant fragments scattered around it.

Gallery
Concept Art
Trivia
References